Program Information | The Community | Alumni | Faculty | Advisory Board
Thinking of Applying? | What is I/O Psychology? | Preparing for Graduate School in I/O 
Resources | Awards and Impact | Upcoming Events | Contact Us | Home
The University of Maryland IO Psychology MPS program has a new online home! Please visit our new site at the link above. 
Awards and Engagement
---
Awards
The UMD's MPS is ranked as the top Master's program in the DMV region in a number of student-driven evaluations of program quality (first; second), and 5th and 6th nationally in a few student-driven evaluations of program quality.
Currently, UMD's MPS is ranked as the 3rd ranked online Master's program both by Best Colleges and by Intelligent in Organizational Psychology, including blended programs.
UMD IO Faculty and Advisory Board members have been recognized for their cutting edge work in practice as well as in teaching and mentoring, including receiving:
Faculty
The Society of Industrial/Organizational Psychology's (SIOP) 2020 Early Career Award in Practice (Dr. Juliet Aiken)
The Society of Industrial/Organizational Psychology's (SIOP) 2011 M. Scott Myers Award for applied research in the workplace for the development of a cutting edge assessment (Dr. Ken Yusko & Dr. Paul Hanges)
The Society of Industrial/Organizational Psychology's (SIOP) 2005 M. Scott Myers Award for applied research in the workplace for project GLOBE on cross-cultural leadership (Dr. Paul Hanges)
International Personnel Assessment Council's (IPAC) 2011 Innovations in Assessment Award (Dr. Ken Yusko)
International Personnel Assessment Council's (IPAC) 2017 Innovations in Assessment Award for job component validation research under consent decree (Dr. Ken Yusko, Dr. Juliet Aiken)
International Leadership Association and San Diego University's 2015 Leadership Book Award for Scholarship for Strategic leadership across cultures: The GLOBE study of CEO leadership behavior and effectiveness in 24 countries (Dr. Paul Hanges)
Academy of Management's Human Resource Division 2004 Scholarly Achievement Award (Dr. Paul Hanges).
Academy of Management's Organizational Behavior division 2004 Best Paper Award (Dr. Paul Hanges). 
Fellow of the Association for Psychological Science (Dr. Paul Hanges)
Fellow of the American Psychological Association (Dr. Paul Hanges)
Fellow of the Society of Industrial/Organizational Psychology (Dr. Paul Hanges)

Excellence in Teaching Award from the College of Behavioral and Social Sciences of the University of Maryland (Dr. Paul Hanges, twice)
Advisory Board
Top HR Product of 2019, Executive Magazine, for her work driving inclusion through virtual reality (Dr. Mina Sipe)
2016 Award for Innovation and Excellence in Applying Technology, DDI, MAP Team (Dr. Mina Sipe)
2014 Doug Bray Award for Innovation and Excellence in the Application of Assessment Technology, DDI, Leader3 Ready Assessment Development Team (Dr. Mina Sipe)
2014 VIP Consultant Award, DDI (Dr. Mina Sipe)
2011 Team Heroz Award, DDI, Manager Ready Assessment Development Team (Dr. Mina Sipe)
Fellow of the American Psychological Association (Dr. Marc Sokol)
Fellow of the Society of Industrial/Organizational Psychology (Dr. Marc Sokol)
Students and Alumni
UMD IO students and alumni are engaged in their communities, workplaces, and in IO Psychology as a whole. A non-inclusive list of alumni and student awards is below:
• Dana Day ('20) won the 2020 Office of Human Resources Director's Award at the National Institutes of Health (NIH)
• Soudeepya Chinni ('20) and Jessaline Tuason ('20) won second place in the 2019 PTCMW Graduate Student Consulting Challenge - within two months of beginning the program!
• Lauren Moretti ('19) received the 2018 Virginia Values Veterans MVP Award for "most inspiring workplace culture for veterans" and the 2018 Breakthrough Award for "most innovative retention program."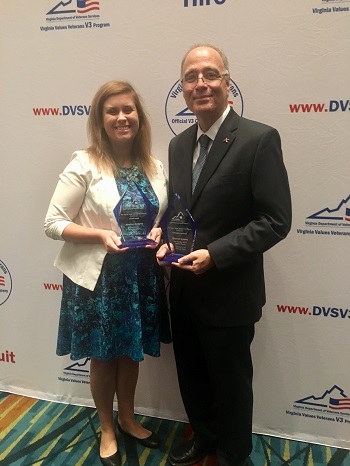 Lauren Moretti and the President/CEO of AMERICAN SYSTEMS (Peter Smith)
• Alia Smith ('17) received multiple awards in 2018 from the Health Resources and Services Administration (HRSA), including "HRSA Special Citation" for her work with the Federal Employee Viewpoint Survey (FEVS) administration and the "HRSA Citation for Outstanding Group Performance Award" for her involvement in the HRSA Exit Survey Development Team.
• Alia Smith ('17) also graduated from the Partnership for Public Service's Emerging HR Leaders Program.
• Blessing Awe ('19) was recognized for the Excellence in Diversity and Inclusion Award.
• De'Leisa Nelson ('18) was selected as the 2019 CASE District II Conference Talent Management Track Chair, and was recruited to join the leadership committee for CASE Multicultural Advancement Professionals (MAP) which serves as a resource for the enhancement and heightened-awareness of issues related to multicultural populations in educational advancement.
• De'Leisa Nelson ('18) was recruited in 2018 to join the Leaders of Hope Council for the Academy of Hope which is an adult public charter school whose mission is to provide high-quality education and services that change lives and improve our communities.
• Sam Lipsky ('18) was selected to present at the Workday Philadelphia Regional user Group (100 + members in attendance) on how to maximize a performance management system, using a competency based performance framework, a continuous performance management culture, and calibration best practices.
• Emily McNair ('17) and one of her colleagues were selected as the two "Cultural Champions" in their 26 person Department at Keller Foundations, LLC (2018)
• Dawn Powers ('17) was selected into and is currently a co-coach for the Excellence in Government Senior Fellowship Program with the Partnership for Public Service (2018)
Impact
The UMD IO MPS puts both the "I" and "O" in "IO." We stay engaged making sure we are up to date on the latest research and contributing to best practices in all areas of IO Psychology. Faculty, alumni, and students drive change not only in local organizations, but across the nation. We are grateful for our partnering organizations - including the Jefferson County Commission, Personnel Board of Jefferson County, and the Ethics and Compliance Initiative. Follow the links below to learn more about the UMD IO program's impact on organizations and on IO Psychology as a whole.
UMD-JCC-PBJC Alphabet Soup Selection Event ("Alphabet Soup")
Each year the Jefferson County Commission and the Personnel Board of Jefferson County visits the University of Maryland to co-host a selection event for friends and family of the UMD IO MPS. This is a one-of-a-kind event in which students receive training on assessing structured interview responses, an opportunity to pump up their resume, and an opportunity network with IO professionals in addition to developing their understanding of selection in an unusual circumstance (consent decree).
UMD IO CARES
A group of students and alumni have launched an initiative out of the UMD IO community to promote ethnic diversity in IO. Specifically, UMD IO CARES works toward the mission of improving Community, Access, Recognition, Education, and Support (CARES) for ethnic minorities in and entering the field of I/O Psychology.
Hands-On Experience with Organizations
UMD IO students and alumni volunteer their time to help non profit organizations improve their processes or services. In the past, we've worked with the College Park Foundation, the Center for Leadership and Organizational Change (CLOC), and the Community Engagement Center (CEC). Currently, the Ethics & Compliance Initiative hosts UMD IO students to provide them with hands-on experience managing surveys and data sets. One of our courses - Analytical Thinking I - also gives students the opportunity to analyze data from and present novel solutions one of our partner organizations.
SIOP
Students and alumni are encouraged to attend the yearly Society for Industrial Organizational Psychology (SIOP) conference. In addition to leading presentations in the formal conference program, UMD IO community members have opportunities to network, connect, and help each other and the community while at the conference. Several UMD IO community members are involved with committees at SIOP, including the Diversity & Inclusion Committee and the Committee for Ethnic and Minority Affairs.
Awareness
The UMD IO MPS community is highly engaged in driving awareness around IO Psychology, including through a YouTube Channel and through pipeline lectures at local Universities and Historically Black Colleges and Universities.
Testimonials
Students and alumni have told us about a number of things they have gained from the program, including: a) access to and creation of incredible network of IO professionals; b) strong foundation in IO theories and knowledge; c) resume building and job opportunities; d) deep consulting advice; e) research and statistical skills; and f) personal and professional confidence.
Some specific answers follow:
Personally, the program has excited me more than anything outside of family over the past 15-20 years. As a tie-in to what it has done for me professionally, the excitement is due to the program topics aligning with many things that interest me personally. The program also answers so many questions I've had around staffing and org performance since I've been in the workforce.
EVERYTHING. Opened up a tremendous amount of doors. I was in a field where I/O psychology wasn't the main focus, but it helped me become a subject matter expert (SME) in that area. It ultimately allowed me to get a dream job.
Provided to me right way of practicing IO. Grounded me and taught me how to conduct the research and provide the data to support my recommendations, outcomes and recommended solutions. It gave me credibility in the industry.
The program advanced my data analysis skills, improved my ability to tell stories with data, gave me more confidence as a consultant, and provided me with a strong foundation in the theory behind IO.
Pushed me to my limits.
Credentials as a credibility signal (MPS) to employers and clients; improved capacity to evaluate and articulate methodical approaches to problem solving; improved vocabulary to around "squishy" topics; incredible peers & mentors.
The entire program helped me understand how organizations can be effective. It gave me the foundation to understanding data analysis, talent management, change management, and performance management. The I/O foundational knowledge and practitioner skill set learned from the UMD program gave me the confidence and ability to obtain an adjunct professor position teaching management within organizations. The UMD I/O Psychology program has personally made me fulfilled and confident in the workforce. I have the knowledge and experience to help my organization become effective and rewarding to its employees. 
Community. Personally got me through the hardest moment of my life.
The group projects (as much as I hate to admit) have taught me a lot: using my own voice, working with many different personalities, planning, coordinating, and executing a long term project. Learning from our mistakes was priceless, they'll always be in the front of my mind for future projects to not repeat. Also being with a cohort really created a wonderful community environment that fostered support and friendship.
The IO MPS program showed me this sense of community in the IO world - how each of us are connected and the work we are doing feeds into other creations. I also have a broad knowledge of business - a holistic approach to business - where I truly understand all the different moving parts in an organization. Because of the knowledge and skills learned in the program, I better understand my work and what role it plays in the overall organization.
Gratitude
We are only as strong as the network that carries us! Since its inception, the UMD IO MPS program has been supported by many different people. A huge thank you to:
Every single person Dr. Paul Hanges and Aiken spoke to while creating the program, including members of the advisory board, current faculty, Dr. Rick Guzzo and Dr. Elliot Lasson, whose insight provided key information for determining the marketing, format, and content of the program.
The advisory board for the MPS program: Dr. Eric Braverman, Dr. Kathryn Niles-Jolly, Dr. Mina Sipe, and Dr. Marc Sokol, who have provided essential support both directly to graduate students and to the program by providing strategic advice and feedback.
The leads for the alumni committee in 2018 (Alia Smith, '17), and 2019 (De'Leisa Nelson, '18), for keeping the director on track, making sure everything gets done, and investing so much time, energy, and heart into each cohort. And if that were not enough, for also checking in on the director's well being and work load as the program continues to thrive.
Everyone who has served on the alumni committee, which drives interesting and helpful programming for current students, including regular career panels, and provides input and feedback to the program more broadly.
Every single cohort for providing thoughtful feedback to faculty and the program director to ensure the program continues to develop.
Every participant in the Alphabet Soup Event with the PBJC and JCC, for donating so much of your time to help ensure strong hires into local government in Alabama - UMD IO MPS alumni and students, and UB Master's students included!
Psychology Department Chairs Dr. Jack Blanchard and Dr. Mike Dougherty for supporting our program as it grows.
All Psychology Department Staff, with special thanks to Kim Schmidt, JoAnne Leffson-Bryant, Merle Henry, Archie Tablada, Robeya Johnson, Enamul Haque, and Hannah Griffith, for providing essential ongoing support in supplies, orders, purchases, strategy, and budgeting. We would not be functional without you.
The entire cohort of 2018 for creating the vision, mission, and values of the program!
All of our organizational partners, including the Jefferson County Commission, Personnel Board of Jefferson County, and the Ethics & Compliance Initiative, for providing our students and alumni with rich, hands-on IO experience.
Professors for the introductory Psychology course sequence, including Dr. Tracy Tomlinson, Dr. Meg O'Neill, Dr. Dylan Selterman, and Dr. Ben Jones, for inviting members of our community to guest lecture in their classes - and by extension, for facilitating the development of pipelines for Psychology undergraduates into IO Psychology.
Dr. Kim Nickerson, BSOS Assistant Dean and Diversity & Inclusion Officer, for all of his support to our program, including a Black History tour of UMD, a guest lecture on racism, and reviewing and providing feedback on important recruiting efforts for our proram.
Every alumnus who has sent jobs and other opportunities to our community, with particular thank you's to Shannel Winslow ('17) and Michelle Stalnaker ('18) for high flow job opportunities!
Alumni, faculty, and advisory board members who sponsor members of our community to attend SIOP's annual conference.
All engaged volunteers for our initiatives, including UMD IO CARES.
Isaiah Crisp ('18) and Nia Heslop ('18), for conducting research to develop a new component to our application - how applicants heard about our program!
Every alumnus participating in alumni interviews during the new student selection process - a full list of involved alumni is on our application page.
Richard Gonsalez ('18), Lindell Thomas ('18), and Jaimen Holland (friend of the program) for coming up with interview questions and conceptual ideas for videos to enhance our program website.
The inimitable Seiarah Henry, creative director and videographer for the youtube channel, the IO Soapbox
Our gratitude grows every day, and we expect this list will grow almost as fast! Check back for updates.