Program Information | The Community | Alumni | Faculty | Advisory Board
Thinking of Applying? | What is I/O Psychology? | Preparing for Graduate School in I/O 
Resources | Awards and Impact | Upcoming Events | Contact Us | Home
The University of Maryland IO Psychology MPS program has a new online home! Please visit our new site at the link above. 
The UMD IO MPS community is fortunate to have highly engaged, passionate, and successful alumni. Our alumni work in the private sector, public sector, non profit organizations, and government. They work in recruiting, selection, talent development, human resources, analytics, organizational change, diversity & inclusion - you name it, they do it. Some are consultants. Some work internally to one company. All are driven. The chart below depicts the proportions of the alumni from our first two cohorts working in consulting, internal to organizations (e.g., HR, talent development), in management, and in research and data analytics.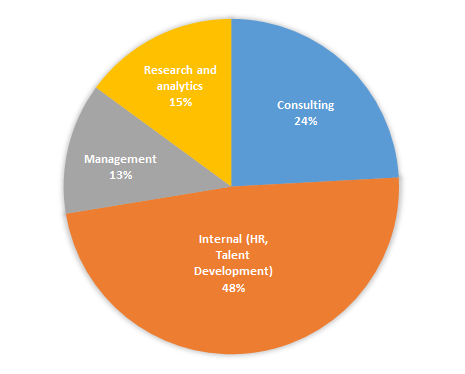 Our alumni have been employed in a variety of organizations across the private, public, and non-profit sectors, including: Booz Allen Hamilton, Deloitte, Korn Ferry, Lockheed Martin, U.S. Federal Government, Keller Foundations LLC, Northrop Grumman, MUFG Union Bank, Abt Associates, Inc., Health Resources and Services Administration (HRSA), NASA, Pew Research Center, Virginia Department of Social Services, WeWork, Department of Defense, Johns Hopkins Medicine International, Primary Integration (a Bureau Veritas company), Gartner, IRS, Bounce X, TRex, Fannie Mae, Ethics & Compliance Initiative, Fors Marsh Group, and Allegis Global Solutions.
Regardless of their primary employer, our alumni engage in life cycle IO work as follows: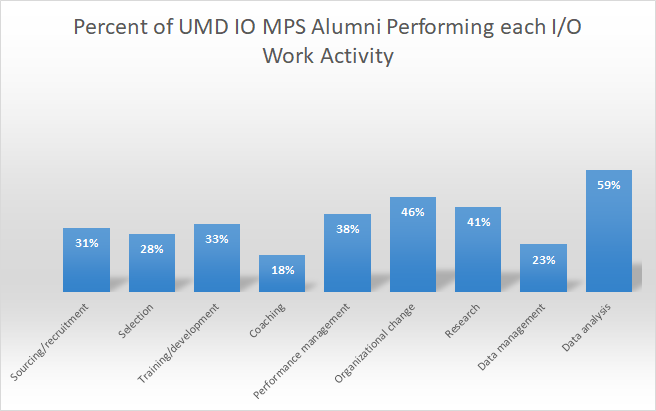 The UMD IO MPS alumni actively support current and incoming students, including: a. talking to prospective students about the program; b. mentoring current students - and other alumni; c. providing advice and feedback on the strategic direction and processes for the IO MPS program; and d. providing job announcements and work opportunities for the broader UMD IO community. In fact, multiple students and alumni have secured employment working in other alumni organizations!
Alumni Committee
The UMD IO MPS Alumni Committee was established by members of program's first cohort, the graduating class of December 2017. This group is committed to continuing to establish and advance UMD's MPS IO program, deepening relationships among program stakeholders (faculty, current students, alumni, etc.), and orienting around UMD networks and systems.
The 2018 alumni committee members are as follows:
• Committee Lead – De'Leisa Nelson, '18
• Programs Lead – TBD
• Events Lead – TBD
• Communications Lead – Matt Shina, '18
• Members – Cohort of 2017: Alicia Smith, Allen Chen, Jackie Reisner, Kelly Wadsworth, Kimberly Johnson, Shannel Winslow, Alia Smith
• Members – Cohort of 2018: Brenna Hearn, Colby Mason, Jo Wynters, and Molly Rogers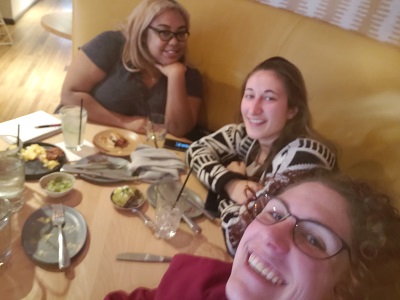 De'Leisa, Alia, and Aiken planning the 2018 to 2019 alumni committee transition over brunch
The chartering members of the 2018 alumni committee are as follows:
• Committee Lead – Alia Smith, '17
• Programs Lead – Shannel Winslow, '17
• Events Lead – Allen Chen, '17
• Communications Lead – Alicia Miller, '17
• Member – Jackie Reisner, '17
• Member – Kimberly Johnson, '17
The first alumni-student networking panel was held June 18th, 2018.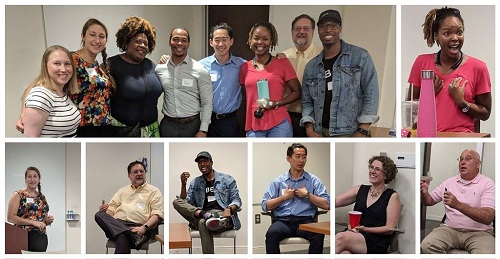 The 2018 alumni committee also:
Drafted governance to guide the future of the alumni committee
Collaborated with the UMD program director and students to initiate a project to establish program, mission, vision and values
Worked with the UMD Alumni Office to obtain a budget, and establish an Alumni Fund specifically for UMD MPS IO activities
Hosted a career panel discussion for 2nd Cohort students
Been involved in strategy discussions to strengthen pipelines for IO studies in HBCUs
Welcomed 3rd cohort students to the program at their orientation
Held our 1st ever Alumni Happy Hour
Hosted 2nd Cohort's Graduation Reception
2. The UMD IO MPS Cohorts
Graduation, Cohort 2017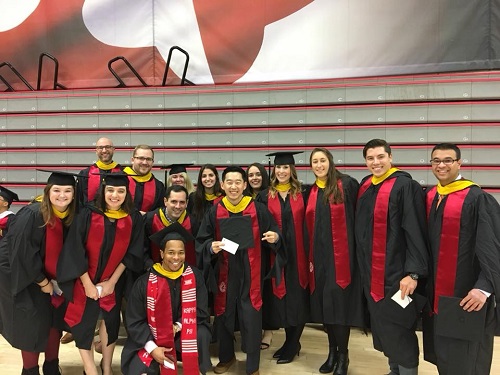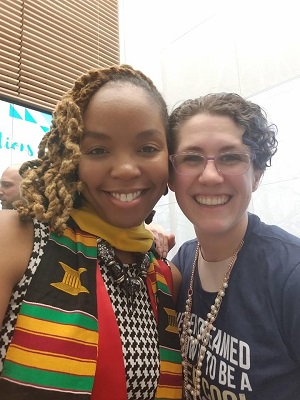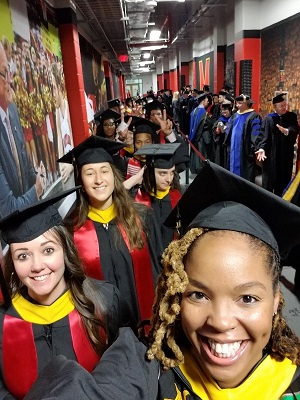 Graduation, Cohort 2018