Program Information | The Community | Alumni | Faculty | Advisory Board
Thinking of Applying? | Resources | Impact | Gratitude | Contact Us
What is I/O Psychology? | Preparing for Graduate School in I/O | Home
Community is the heart and soul of the UMD IO MPS. After all, the people make the place! We place a strong emphasis on connection, coaching, and support, across cohorts, industries, and fields. Together, we accomplish more.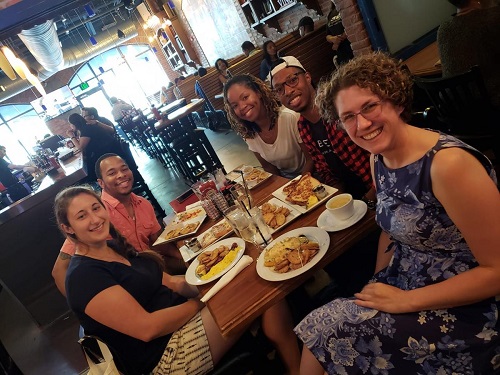 Awards and Engagement
UMD IO Alumni are engaged in their communities, workplaces, and in IO Psychology as a whole. A list of some accomplishments to date are below.
• Lauren Moretti ('19) received the 2018 Virginia Values Veterans MVP Award for "most inspiring workplace culture for veterans" and the 2018 Breakthrough Award for "most innovative retention program."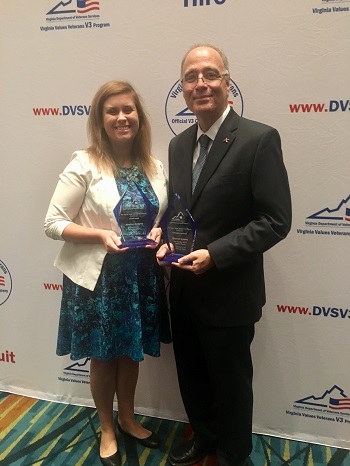 • Alia Smith ('17) received multiple awards in 2018 from the Health Resources and Services Administration (HRSA), including "HRSA Special Citation" for her work with the Federal Employee Viewpoint Survey (FEVS) administration and the "HRSA Citation for Outstanding Group Performance Award" for her involvement in the HRSA Exit Survey Development Team.
• Alia Smith ('17) is also participating and about to graduate from the Partnership for Public Service's Emerging HR Leaders Program.
• Blessing Awe ('20) was recognized for the Excellence in Diversity and Inclusion Award.
• De'Leisa Nelson ('18) was selected as the 2019 CASE District II Conference Talent Management Track Chair, and was recruited to join the leadership committee for CASE Multicultural Advancement Professionals (MAP) which serves as a resource for the enhancement and heightened-awareness of issues related to multicultural populations in educational advancement.
• De'Leisa Nelson ('18) was recruited in 2018 to join the Leaders of Hope Council for the Academy of Hope which is an adult public charter school whose mission is to provide high-quality education and services that change lives and improve our communities.
• Sam Lipsky ('18) was selected to present at the Workday Philadelphia Regional user Group (100 + members in attendance) on how to maximize a performance management system, using a competency based performance framework, a continuous performance management culture, and calibration best practices.
• Emily McNair ('17) and one of her colleagues were selected as the two "Cultural Champions" in their 26 person Department at Keller Foundations, LLC (2018)
• Dawn Powers ('17) was selected into and is currently a co-coach for the Excellence in Government Senior Fellowship Program with the Partnership for Public Service (2018)
• Ken Yusko and Juliet Aiken were part of the team to win the IPAC Innovations in Assessment Award for the project, Hiring Quickly and at a Low Cost under a Consent Decree: Jefferson County's Job Component Validity Research (2017)
SIOP
UMD IO MPS students and alumni are preparing a number of submissions for SIOP 2019, which will be held in the DC area April 4th-6th! Stay tuned to see which submissions are accepted.
SIOP 2018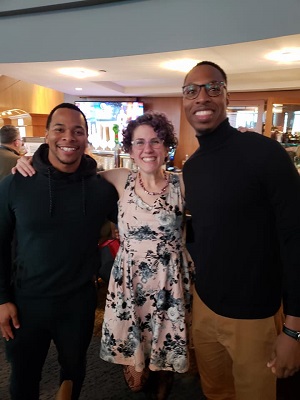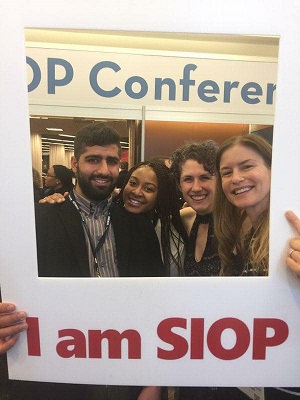 SIOP 2017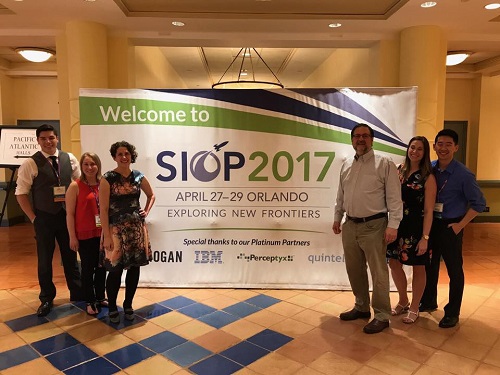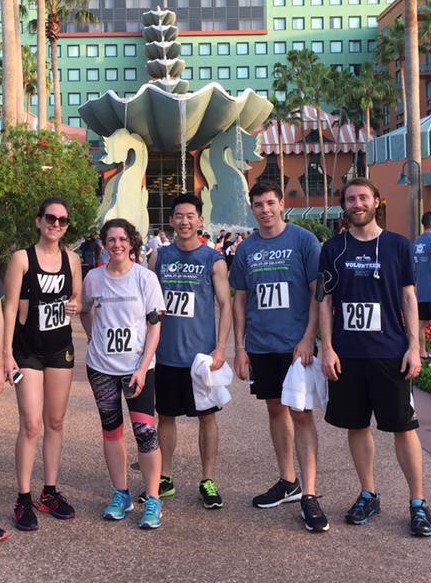 Last modified
09/17/2019 - 10:37 am