Program Information | The Community | Alumni | Faculty | Advisory Board
Thinking of Applying? | What is I/O Psychology? | Preparing for Graduate School in I/O 
Resources | Awards and Impact | Upcoming Events | Contact Us | Home
At UMD, we practice what we preach. Incoming students are selected using a selection procedure grounded in best IO practices. And, the vision, mission, and values below were developed not by the faculty, but by the cohort of 2018 with input from alumni, incoming students, advisory board members, and faculty.
Our Vision: To be the graduate program of choice to train the next generation of innovative scientist-practitioners whose vision and approach will drive IO psychology into the next century.
Our Mission: Develop scientist-practitioner translators with diverse backgrounds and perspectives through a flexible blended learning platform, who apply data and psychological principles to solve real-world business problems across industries.
Values:
Community: Community is the heart of the program. We emphasize developing a tight-knit, proactive community of scholars and practitioners eager to connect and support each other.
Learning: The IO MPS focuses on training students to think and approach problems in an analytical, productive way. Learning happens when we struggle. The faculty support students and alumni through their personal learning journeys - the goal is not to memorize, but to grow.
Diversity: A cohort program is most powerful when it is a mosaic. The diversity within and across UMD IO MPS cohorts makes this program unique. We select and grow all kinds of students - new graduates to mid- and late-career practitioners with different experiences, backgrounds, and goals. Diversity here goes beyond demographics (but that matters too!).
Mentorship: UMD IO faculty, alumni, and students are dedicated to each others' success. Everyone brings strengths to the table. The program leverages these strengths to help everyone develop personally as well as professionally. Mentoring relationships are developed and sustained between faculty and students, within and between cohorts, and between members of our community and others within the IO community more broadly.
Culture: The program culture is distinctive - inclusive, supportive, collaborative and challenging. We care about every person in our community as a whole person and want them to succeed, and to be the best version of themselves. You matter, here. UMD IO scholars and practitioners are hungry, kind, caring, and ambitious - ready to improve organizations and revolutionize the field of IO Psychology.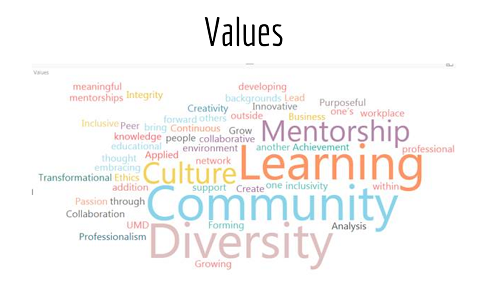 Why UMD?
The UMD IO MPS prepares students to pursue a job in a number of IO-related fields, such as human resources, training, analytics, or organizational consulting.
The IO MPS at the University of Maryland is built around three pillars: an emphasis on statistics and methods, the development of professional and practical skills, and the cultivation of professional relationships. First, in the era of big data, IO practitioners need to be savvy translators of statistics and methods. IO MPS students at UMD learn not only how to conduct analyses – from regression to social network analysis – but also why different analyses are conducted, what information they provide, and how to translate research results to non-expert audiences to drive business decision making. Second, theory is critical for effective practice but, by itself, only provides a foundation. The IO MPS also focuses on training students to dynamically apply rigorous theory in ambiguous, complex, and/or ethically challenging situations in real organizations. Finally, it is impossible to overstate the importance of professional relationships. The IO MPS, as a cohort program, is focused on providing opportunities for students to develop relationships with cohort members, alumni, professors, and other friends of the program to better enable professional development and access to professional opportunities.
The IO MPS at the University of Maryland has several defining features:
1.      Blended Learning
Classes are designed to accommodate the schedules and lifestyles of students with full-time jobs. In-class instruction for each course occurs once a week for three hours in the early evening at the University of Maryland, College Park. The remainder of your instruction will occur either through asynchronous online lectures or outside activities that you can complete at your own pace.
2.      Immersive Learning
We do not organize classes solely around lecture. Instead, we emphasize project-based, hands-on learning. Through your coursework, you will have the opportunity to help businesses solve pressing questions, work through simulated organizational challenges, and analyze business case studies. One of the two final courses you will take is a practicum. In this class, you will work in a job (yes, it may be your current job!) that uses and develops skills you have been learning throughout the MPS program.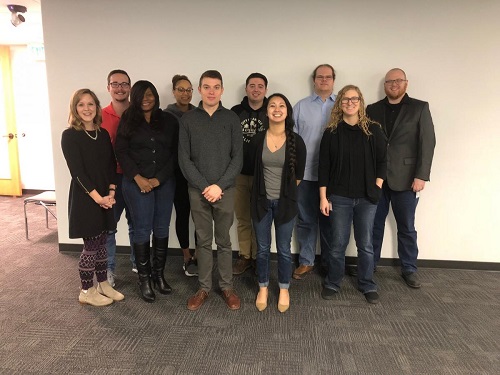 Cohort '18 Students Engaged in Selection in Jefferson County, Alabama
3.      Access to Experts
The IO MPS faculty do not teach only what they've read in textbooks. Our faculty are award-winning industry professionals who bring their considerable expertise to bear in the classroom. Classes in the IO MPS program are therefore full of practical, real-world advice. At UMD, you will learn about current and rising issues in practice, not just in theory.
4.      Future Oriented
The UMD IO MPS program has an Advisory Board comprised of IO professionals from different industries. The advisory board helps shape the program and enables it to anticipate emerging issues that will shift the focus of IO work. For example, given the rising emphasis on "big" as well as "small" data, you will learn about cutting-edge data science techniques that will enable you to become a leader in your organization and your field.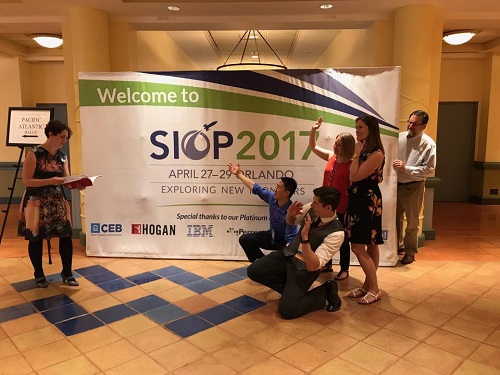 Cohort '17 Students with Professors at the SIOP Conference
 5.      Rich Network
The training provided by the University of Maryland in Industrial/Organizational Psychology is highly regarded. UMD has produced exceptional IO practitioners and researchers for at least sixty decades, beginning with the UMD PhD program. Our alumni and faculty have gone on to be presidents of the Society of Industry and Organizational Psychology (SIOP), won numerous awards for their work from SIOP, and recognized experts and leaders in industry and research. Thus, alumni and other friends of the UMD IO program are a great resource for current students navigating their professional paths. In short, when you become part of this program, you become part of the UMD IO family.
6.      Personal and Professional Development
Learning is not something that only occurs in a classroom. At UMD, we are committed to you – not just to your academic growth. In addition to introducing you to the content and skills you need to master as an IO professional, we work with you to refine and meet your professional goals. You will receive one-on-one coaching and mentoring throughout your time at the program, as well as opportunities to attend workshops on careers in IO psychology, presentation skills, interviewing and resume development, and the horizon of IO psychology, among other topics.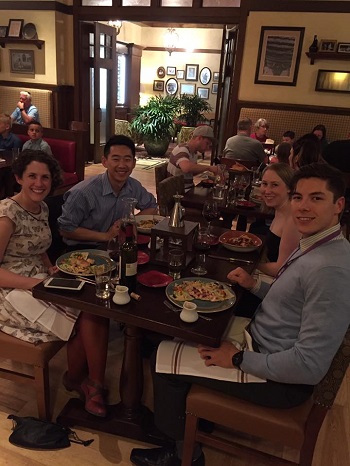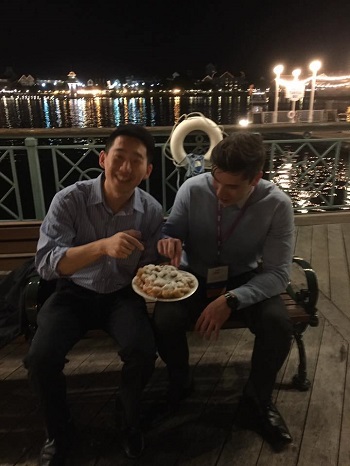 Cohort '17 Students Bonding at SIOP
Program Overview
The goal of the program is to provide students with a broad understanding of psychological principles and focused training in the research and application of Industrial Organizational Psychology. In this program, you will learn cutting-edge techniques to improve the livelihoods and outcomes of employees and organizations.  This degree will prepare students for a range of careers working in human resources or training departments, consulting, or government, among other professional settings
Upon completion of this program, all students will be able to:
Understand challenges faced by organizations today, as well as likely challenges organizations will face in the future
Critically evaluate existing research and data on organizations and individuals at work
Competently design and conduct research in a business setting
Communicate the findings of research and best practices to both technical and executive audiences
Design and implement empirically-supported selection, compensation, talent development, and promotion techniques, among others, in the workplace
The learning format
This master's degree program is designed to provide the highest level of rigorous academic training and mentoring while meeting the needs of working professionals and students who are interested in complementing their course work with practical hands-on experiences.  Classes are taught online and at the College Park campus during the evenings.  In class lectures are complemented by online assignments, supplementary materials, and faculty office hours.  Students are always welcome and encouraged to additionally meet with faculty and mentors outside of class time.
The program is completed in 15 months over the course of 5 terms.  Students complete two courses per term.
Career Mentorship and Preparation
Alongside traditional course curricula, the Master's program has a special emphasis on helping students achieve their individual goals through close faculty mentoring.  Whether students are interested in pursuing a career in consulting, HR or training, government, research, or considering applying to Ph.D. programs, our faculty are committed to helping students prepare for their future endeavors.  Mentoring can occur in-person during scheduled on-campus visits with faculty at the University of Maryland or through individual online video conferencing with faculty.  Admitted students may also take advantage of the many opportunities and resources offered through the University, including their outstanding educational resources and career services division.
Program Requirements
What does the program require?
Admission to University of Maryland graduate programs is highly competitive and space is limited.  Admitted students will have a bachelor's degree with a cumulative GPA of 3.0 or higher and will submit a statement of purpose.  Students will also be asked to submit a resume or CV and two letters of recommendation.  This program does not require that students have a background in psychology or have taken the GRE.
A select number of students will be asked to complete interviews as part of the application process.  An invitation to complete an interview does not guarantee admissions.
Do I need to go to the University for my classes?
Yes. All classes are hybrid, meeting in person for half of the required course hours. Classes are taught after work hours to accommodate students' work schedules (i.e., 5-8 pm one day a week total). All classes are complemented with online lectures, additional assignments and supplementary materials online that can be completed off campus.  Students can also choose to meet with their faculty advisors either on campus, online, or over the phone.
Financial Aid:  Graduate Assistantships or scholarships are not available through this program. However, students are eligible to compete for competitive Graduate Assistantships in other Departments on campus, and we may at times be able to offer partial Teaching Assistantships. 
To find out more about the IO MPS program, please follow the link here.