Program Information | The Community | Alumni | Faculty | Advisory Board
Thinking of Applying? | What is I/O Psychology? | Preparing for Graduate School in I/O 
Resources | Awards and Impact | Upcoming Events | Contact Us | Home
The University of Maryland IO Psychology MPS program has a new online home! Please visit our new site at the link above.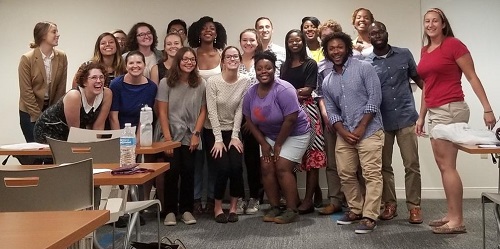 Cohort of 2019!
---
We are currently looking to fill our Spring 2022 cohort! The application deadline has been extended to February 1. 
If you are a Domestic student and have received your Bachelor's degree, you're eligible to apply for the Spring! Please visit our admissions page to learn more. You may also contact us directly at iomps [at] umd.edu.
--
February 2022 Information Session
2/7/22 at 3:30pm ET
Please RSVP for the information session HERE.
If you are interested in learning more about our program, join our information session on 2/7! This will be the last information session before our Fall 2022 admissions deadline! 
It will be held by our program director, and we will share more information about the program, courses, out of class opportunities, mentorship, and more. Please RSVP at this link.
---
Industrial Organizational (IO) Psychology is the study of people in formal organizations, including the workplace. IOs work throughout industry – in consulting, human resources and training departments, government, research, and academia – to improve the well-being and outcomes of employees and organizations. IO psychologists help organizations recruit, hire, train, retain, evaluate, and promote the best talent; cultivate and change organizational processes and culture; develop leaders; drive business decisions using theory and data; and improve diversity and inclusion efforts and impact in organizations (among other things!).
According to the Bureau of Labor Statistics, Industrial Organizational psychology is the fastest growing occupation in the U.S., with an anticipated growth rate of 53% between 2014 and 2022. And, US News and World Report declared IO Psychologist as among the best jobs both in 2018 and in 2019. Whether you are preparing to enter the workforce, or you an early or mid-career professional looking to hone your skills, the UMD IO Masters of Professional Studies (MPS) provides the training you need to get ahead at work and open new doors in your career.
At UMD, students receive rigorous training in empirically-supported best practices in IO psychology. Students will develop advanced knowledge of statistical and research methods in business settings, business and legal fundamentals, selection and assessment, talent development, organizational change, and performance management. We also offer training for students on professional development topics, including presentation and consulting skills. The UMD MPS in IO psychology is unique in its emphasis on helping students become skilled both in garnering insights from data and research and in working with individuals and organizations to put those insights in action.
The UMD IO MPS is a 30-credit program that is completed in five terms over the course of 15 months. Courses follow a hybrid model. In-person instruction once a week is blended with online asynchronous lectures and outside activities to provide a flexible schedule for working professionals. To accommodate the schedules of our students, in-class instruction at the University of Maryland, College Park takes place in the early evening.
The UMD IO MPS meets the Society for Industrial & Organizational Psychology guidelines for education and training in IO psychology.