CAPER: Research Staff
About CAPER | Research | People | How to Participate and be in a study | Contact Information

Faculty and Graduate Students | Research Staff | Current Collaborators | Undergraduate/Volunteer Reseach Assistants | Past CAPER Members
CAROL GORHAM - Director of Administrative Services
Claire mccown
Claire graduated cum laude from Hollins University in 2013. She then worked in autism research and education for a year before teaching neurologically typical children. Claire is now a Master's student in the University of Maryland's Master of Professional Studies in Clinical Psychological Sciences program.  Claire currently works in CAPER as a Graduate Clinical Faculty Research Assistant under Dr. Julia Felton on the College Life Adjustment Study Utilizing Breathing Base Mindfulness Therapy (BBMT). Claire plans to pursue a doctoral degree in Clinical Psychology with a research focus in intimate partner violence in sexual minority populations.
Click here to email Claire
Katie graduated from the University of Maryland, College Park in May 2015 with a B.S. in Psychology with honors and a minor in Spanish. As a Post-Baccalaureate Research Assistant at CAPER, she serves as Project Coordinator for the Assessment of Cognitive Improvement Training Among Mid-life Individuals, an executive function intervention aimed at improving delay discounting rates, executive functions, and healthcare behaviors in a community sample from Baltimore's Pigtown neighborhood. She also conducts structured clinical intake interviews at an inpatient substance abuse treatment facility in Washington, D.C. and helps with data collection on several other CAPER studies which utilize community samples. Katie's research interests include risk and resilience factor development in adolescence and middle and high school-based intervention design.
Click here to email Katherine
Jazlyn graduated from the University of Maryland, College Park in December 2016 with a B.A. in Psychology and minors in Neuroscience and Philosophy. She is a faculty research assistant for the fMRI Child study and the Negative Urgency Study being conducted by Dr. Kristen Hamilton. Jazlyn hopes to earn her Ph.d in Cognitive Neuroscience and conduct research on social cognition.
Click here to email Jazlyn
 
Stephanie recently earned her B.S. in psychology from the University of Maryland. She is currently managing a number of studies directed by Dr. Kristen Hamilton, including a NIDA-funded longitudinal study on the neural correlates of impulsivity in adolescents. Stephanie's research interests involve examining the role of emotion in self-regulatory processes. Stephanie's goal is to pursue a Ph.D in clinical psychology.
Click here to email Stephanie
Mazneen Havewala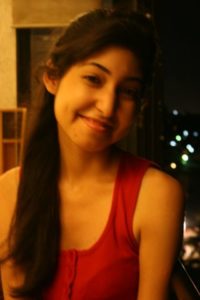 Mazneen got her first Master's degree in Clinical Psychology in 2008 in India, after which she worked as a Clinical Psychologist at a mental health hospital. She also worked as a lecturer at a local college where she taught Psychology courses to undergraduates. She moved to the United States in 2011, and got her second Master's degree in Personality and Social Psychology from the American University in December 2012. She did her thesis on the effects of perceived parenting styles on psychopathology, attachment, self-esteem and grit in American and Indian students. Currently, she is working on distress tolerance research under Dr. Julia Felton at CAPER, and is the research coordinator for a study investigating the effects of the interaction of distress tolerance and daily life stressors on mood in adolescents.  She also helps with data collection of other research projects, and conducts Structured Clinical Interviews at an inpatient substance abuse facility in Washington, DC. Mazneen aims to get her Ph.D. in Clinical Psychology in the future, and would like to explore how familial and social variables affect parenting and the subsequent personality and psychological development of their children, at different developmental stages of their lives.
Click here to email Mazneen