Here are some poster presentations from our 2020 PSYC Undergraduate Research Fair. This event celebrates student research by exhibiting projects that or undergraduates are currently working on. Click on a link to download a copy of the poster!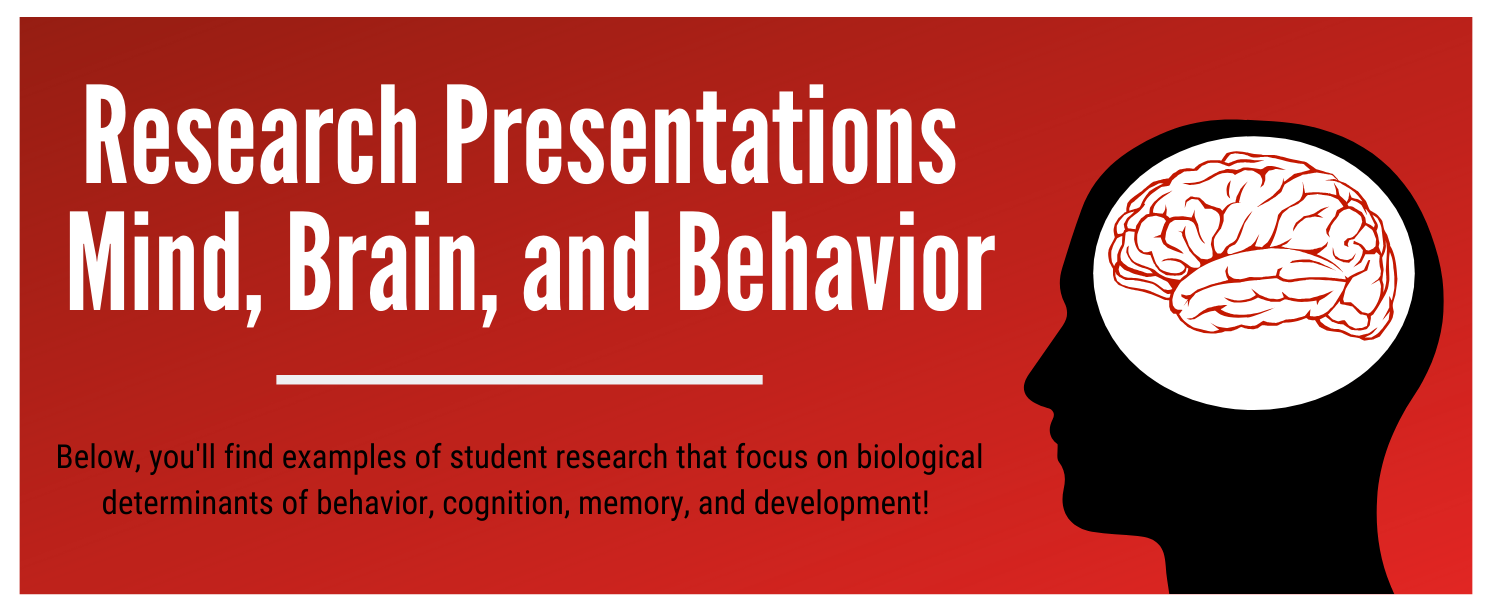 Theme 1: Mind, Brain and Behavior 
Relations between Memory Measures and Hippocampal Volumes in Early Childhood by Carli Fine & Tracy Riggins
The Effects of Prediction and Speech Rate on Lexical Processing by Alissa Cole & Robert Slevc
Exploring Hippocampal Structural Differences in Habitual vs Non-habitual Nappers During Early Childhood by Lena Meredith, Tamara Allard,& Tracy Riggins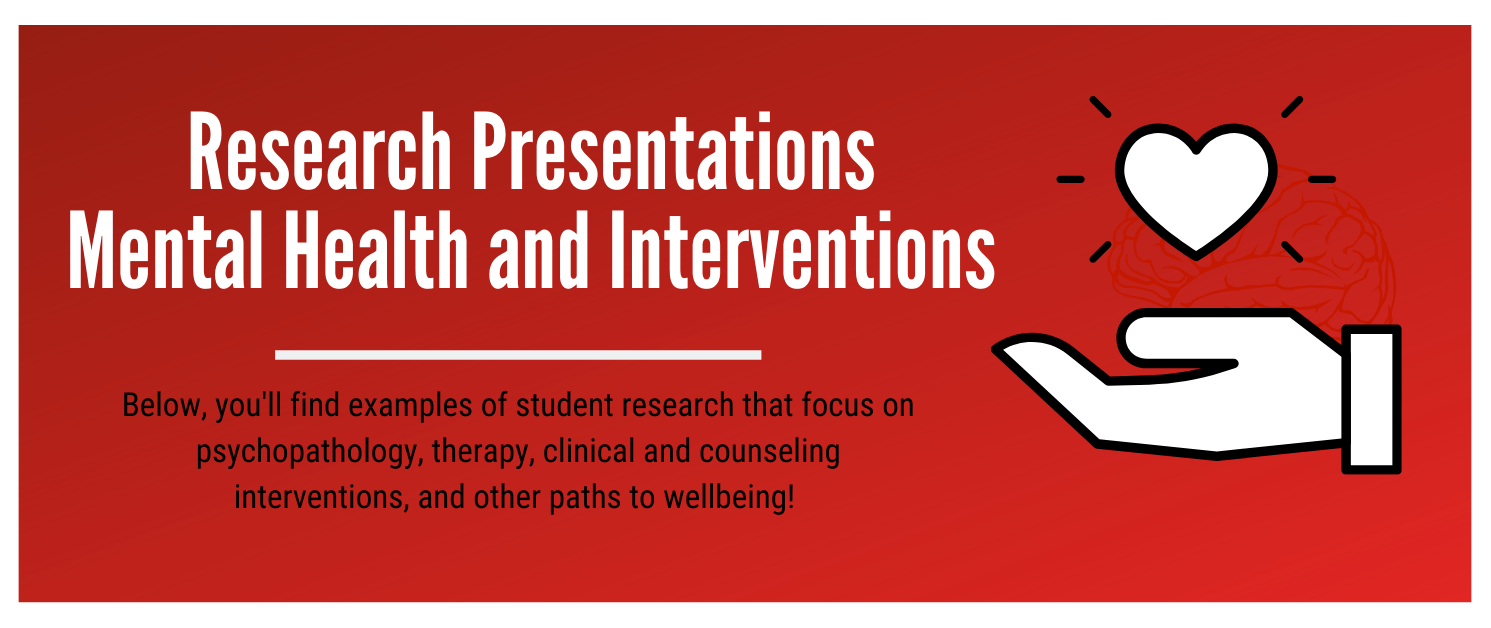 Theme 2: Mental Health and Interventions 
The Effects of Discrimination on Black Mothers' Internalizing Symptoms and Parenting Behavior by Amber Williams
Sleep Disturbance and Impairment's Relation to Positive and Negative Symptoms in Psychosis by Miguel A. Turcios, Christina L. G. Savage, Anyela M. Jacome, Ryan D. Orth, Melanie E. Bennett, and Jack J. Blanchard
Enhancing Undergraduate Students' Responses to Bereaved Peers:  An Innovative Online Intervention by Erin Hill, Karen M. O'Brien, Micah Herman, Anastasiia Khibovska, & Shereen Ashai
College Dating Violence: Evaluating an Online Bystander Intervention Educational Video by Micah Herman & Karen M. O'Brien
Examining Age as a Potential Correlate of Selective Mutism Severity by Tanvi Das, Allison R. McManus, Andrea Chronis-Tuscano, Ph.D., & Kelsey E. Woods, M.S.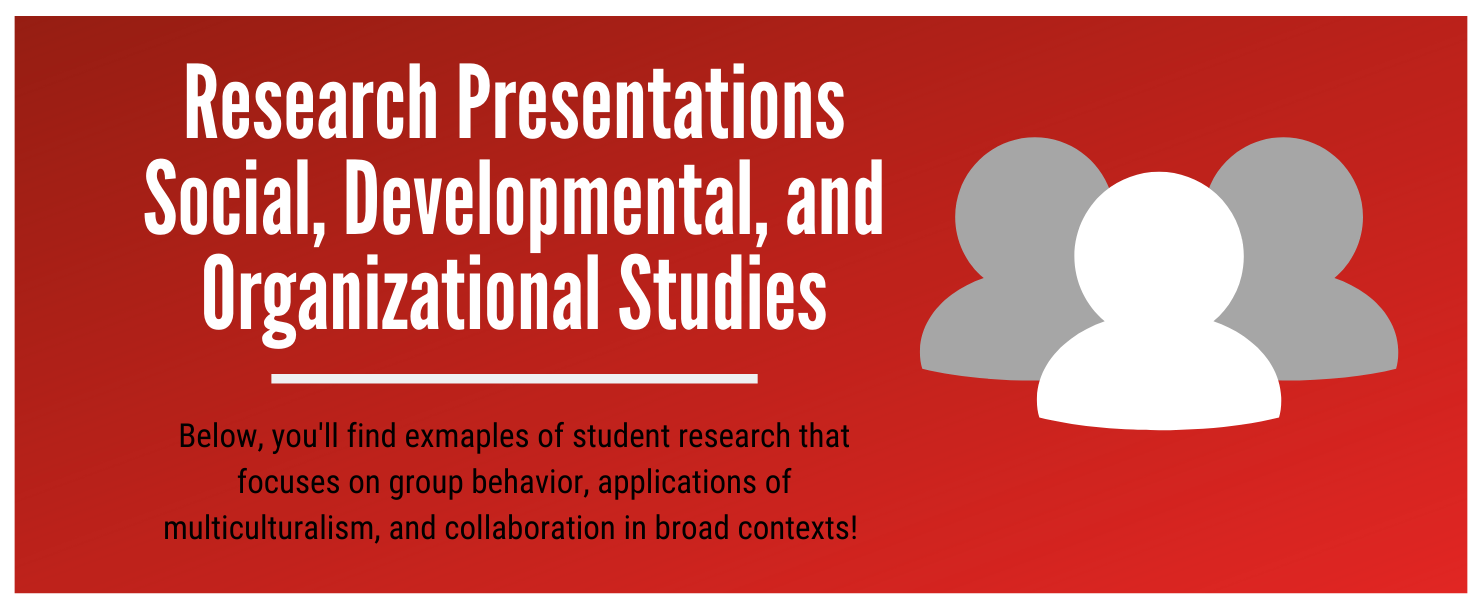 Theme 3: Social, Developmental, and Organizational Studies 
Pursuit of Self-Esteem and Intentions to Engage in Important Goals by Luke Teresi, Jacob Dapp, Jessica Fernandez & Edward Lemay
Preschoolers Negatively Evaluate Social Excluders But Do Not Always Dispreferthem by Lindsay A. Horen, Sarah Knoll, Amanda Mae Woodward & Jonathan S. Beier
The Role of Attachment on Adolescents' Risky Sexual Behavior by Gunleen Deol, Mollie Flamholz, Jude Cassidy, Megan Fitter & Davis Straske
Ethical Self-Concept's Mediating Role Between Mindfulness and Overclaiming by Nivedhitha Kishore, Jordan Epistola, Emily Forgo & Paul Hanges
Attachment Orientation as a Moderator of Masculinity & Gender Stress by Braden Smolko, Jordan Epistola & Paul Hanges
Children's Evaluations of Helpful and Unhelpful Individuals by Sydney M. Forman, Amanda Mae Woodward, & Jonathan S. Beier
Early Parenting Predicts Cognitive Risk for Depression in Children by Alexandra Ostrander, Emma Chad-Friedman & Lea R. Dougherty
Positive Media Influence on Implicit Bias Toward or Against Immigrants by Ateret Frank, Xavier Phelps, Bajazit Alickovic, Danielle Dicello, & Tracy Tomlinson 
What Factors Influence Fairness Perceptions of Mental Health Accommodations in Academia? by Grace Chen, Caroline Adkins, Matthew Hailermariam, Yi Hua Lee, Sara Barth
Preschoolers Track and Socially Evaluate Social Includers and Excluders by Sarah Knoll, Amanda Mae Woodward & Jonathan S. Beier